THE BIG QUIZ NIGHT FOR MOTOR NEURONE DISEASE
Friday, 29th November, 7.00 pm at the Village Hall

We are raising money for life-saving research into Motor Neurone Disease (MND). Poulton's own Bernie O'Leary was diagnosed with MND earlier this year. She is determined to raise as much money as possible to find that elusive cure. It will come…we have witnessed the amazing reversal of one type of cancer in the last two months from treatments which are working now…not due to work in ten years time. MND affects a minority of people and research is less well-funded. For Bernie and all others out there living with MND, let's do what we can to speed up the current research and make a difference. Please come, enjoy and make a real difference for Bernie.

Drinks and food will be available. There will be a supper interval during the Quiz. Quiz tickets are £10. Come as a team or we'll find a team for you on the night. RSVP to Rosie.arkwright@icloud.com
CHRISTMAS CRAFT FAYRE
Saturday 7th December 2019 Village Hall, 10 am to 1.00 pm

An extended Books, Biccies and Beverages event where local businesses, charities or individuals will sell Christmas produce and gifts. Contact Judy Harmsworth (01285) 851230 for more information.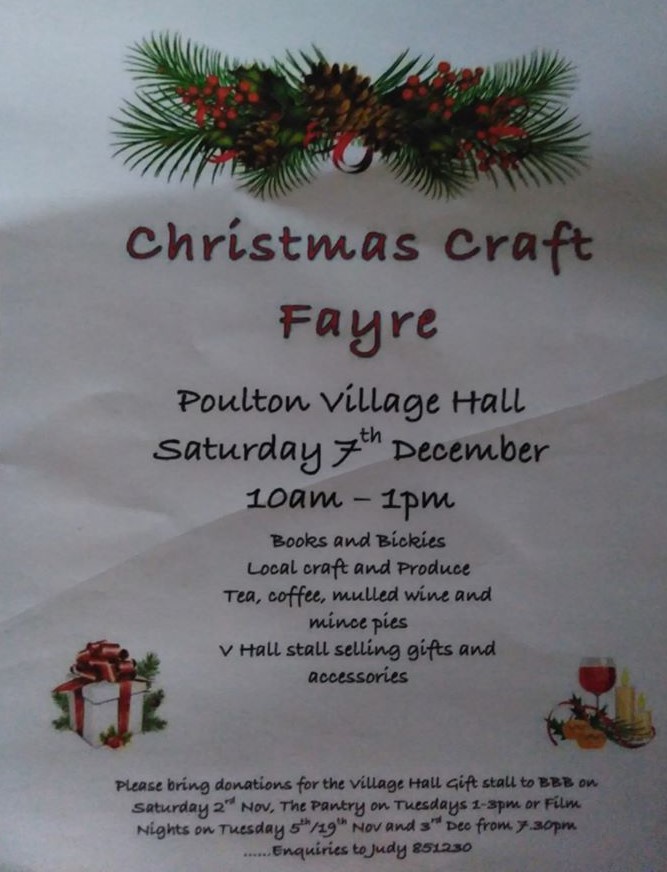 Tuesday 10th December 2019 Village Hall – 7.00 pm

Cirencester Community Choir. Visitors very welcome. Visiting WI members £3. Non-WI members £5. Refreshments included. Enquiries: Elinor 01285 851218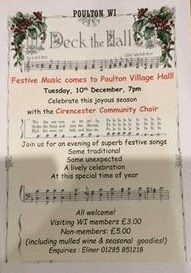 POULTON CHRISTMAS PARTY
Saturday 14th December 2019 Village Hall 7.30 pm to midnight

Come along and celebrate Christmas with friends. Snacks and canapes provided but bring your own drinks. Disco by John Newman. £15 per person including a glass of fizz on arrival.

Tickets on sale from 5th October 2019 from The Pantry, Books, Biccies and Beverages or contact Carolyn Sleight via the Poulton Village Facebook page. Numbers are limited so don't leave it too late!
WIND IN THE WILLOWS PRESENTED BY THE RAIN OR SHINE THEATRE GROUP
Saturday 28th December 2019 Village Hall 7.30 pm

Follow the adventures of handsome Ratty, innocent Mole, wise Badger and, of course, the incomparable Toad as they row, ride and run the banks of the River. Suitable for the whole family. Tickets £7 child or £13 adult including a glass of Toad's Toddy. Contact 01285 850696 for tickets.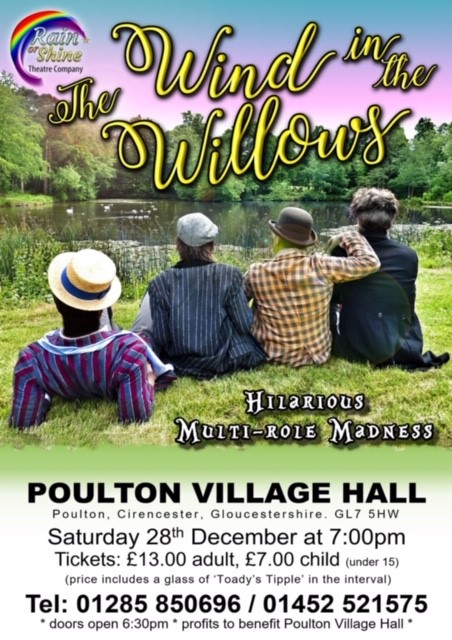 Regular Events in Poulton
YOGA by Becky Barry
Mondays – Village Hall, 9am
PILATES by Jodie Bensley-Jones
Tuesdays – Village Hall, 9.30am
PAINTING GROUP
Wednesdays – Village Hall, 10am – 12 noon
Suitable for beginners and improvers. £15 to include materials (until a chosen medium is selected). Runs throughout the year. Contact Lorraine on loribarker@hotmail.co.uk
First and Third Tuesday of each month – Village Hall, 7.30 pm for 8.00 pm start
Second Tuesday of each month – Village Hall, 7:00pm