Poulton is a vibrant village of around 160 houses, set in the Cotswolds, an Area of Outstanding Natural Beauty. It has a beautiful 19th Century Church, a traditional Village Hall and it is also home to the popular gastro pub, The Falcon, which serves some of the best food in the area.
Historically it was predominately an agricultural community, which over the past century has seen many changes, yet remains an active and sociable place to live. Regular events are held in the Village Hall, such as Toddlers' Group, Pilates, yoga, art classes, and a film club called the 'One and Nines'. The Women's Institute meet regularly and there is a monthly "Books and Biccies" session, held on the first Saturday of each month, when villagers can swap books and meet and catch up with the news. The village is lucky to have retained a recreation ground and a playing field called 'Englands' where village cricket and football is played, and a traditional summer fete is held each year on the first Sunday after the August Bank Holiday.
Poulton is in the county of Gloucestershire, in the south of the Cotswolds and is part of the Hampton ward of the Cotswold District Council. The parish had a population of 408 at the 2011 census.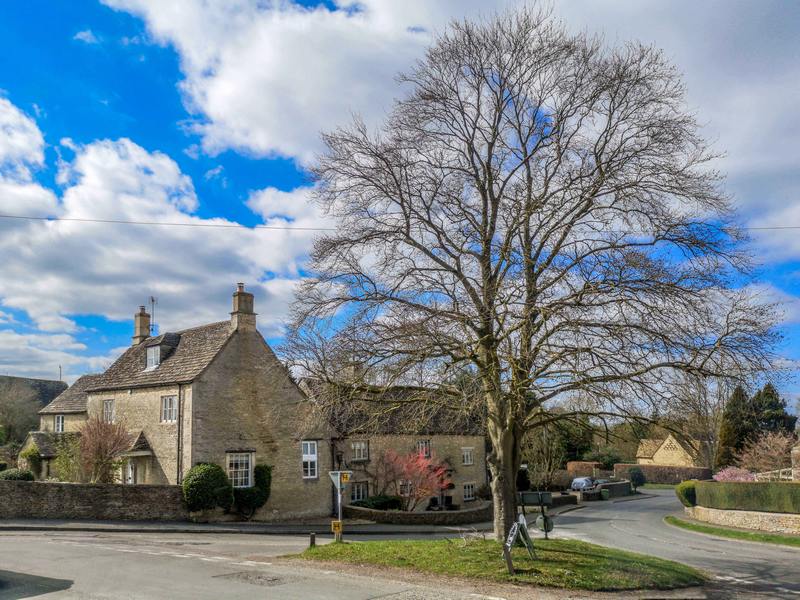 Message from Angela Barker (Police, PCSO, Cotswolds) regarding shed burglary
Between 15:00hrs 18/10/21 and 07:00hrs on 19/10/21 a shed was broken into in Poulton and a strimmer and lawnmower taken. If you saw or heard anything please report on 101 quoting incident 0393 of 19/10/21. As the nights draw in please ensure your sheds and property are secure and well lit.

On behalf of the Cotswolds Neighbourhood Policing Team
Message from Cllr Lisa Spivey (Liberal Democrat Cotswold District Councillor for The Ampneys and Hampton Ward regarding speeding
Please see below the clip from yesterday's ITV coverage. Great to see Poulton on national news. I was very impressed by your action plan on speeding and absolutely agree that positivity is the way forward. I know others have tried, but there is absolutely no point in re-treading stagnant water, and your renewed energy and focus will hopefully make change happen. https://www.facebook.com/watch/?v=586578589363923
Poulton Village Hall – AGM – 15th November 2021, 7.00 pm
The Poulton Village Hall AGM will take place on 15th November 2021 from 7.00 pm. The agenda is shown below and can also be accessed on the Poulton Village Hall page
Message from Andrew Biddell (Police, PCSO, Cotswolds) regarding speeding
On Friday 8th October 2021 between 14:45 and 15:15hrs I attended Poulton with the speed camera and caught drivers exceeding the speed limit. These drivers will have tickets issued to them.
On behalf of the Cotswolds Neighbourhood Policing Team
Message from Zaheer Bulbul (Police, PCSO, Cirencester)
On the afternoon of 28th September 2021, whilst out on visible mobile patrol, officers spotted an unattended vehicle with its boot wide open in Poulton. We were unable to locate the owner but managed to secure the vehicle. This is one of many we have come across over the last few weeks. Beware that opportunist thieves will take advantage of this kind of situation. Be mindful by ensuring your vehicle is properly secured before leaving it. Take extra care if you have a button on your key fob for the boot, as this can be accidentally pressed without the owner being aware.
On behalf of the Fairford and Lechlade Neighbourhood Policing Team
FIRE AT BETTY'S GRAVE – 16th September 2021
On 16th September 2021 a fire was started in a paddock at Betty's Grave which is suspected to be arson, if you saw anything suspicious please call 101 quoting incident number 0218 of 16/09/21
SPEEDING – Message from Andrew Biddell, PCSO, Cotswolds – 8th August 2021
Hello

On Friday 6th August 2021 I took the speed gun to Poulton, and spent half an hour checking car speeds. Within the half an hour I caught five cars driving over the speed limit. Tickets will be sent out to the drivers of these cars.

Many thanks

Your Police Community Support Team
Message Sent By
Andrew Biddell (Police, PCSO, Cotswolds)
CRIME PREVENTION ADVICE – 27th June 2021
Crime Prevention Advice
This is a message from your Local Neighbourhood Policing Team

This is a general reminder to keep your home safe and secure against burglary this summer with a few points to remember.

Is your back gate your weak spot….
Install strong fences and gates and make sure that they are always kept locked. Make it difficult for burglars to climb over by adding trellis and spikey plants.

Increase the visibility of the entrances and exits of your home….
Cut back high bushes that may block your neighbour's view of your home, burglars do not like to be seen, or caught.

Close and lock any windows or doors….
Check what valuables are on display and can be seen from the outside of your home. Keep them away from view.

Sheds, garages and garden items….
Always lock your garage/shed and consider installing alarms. Any valuable tools, bikes etc. make sure they are secure locked away out of sight.

CCTV or digital doorbells…
Install external CCTV or digital doorbells, burglars do not want to be seen or caught.

Many thanks
PCSO 9254 Bev Rowe

For more information, please visit our website: https://www.gloucestershire.police.uk/cp/crime-prevention/Remember, we're unable to accept reports of crime through Your Neighbourhood Alerts. If you need to report something, please complete this online form: https://www.gloucestershire.police.uk/tua/tell-us-about/cor/tell-us-about-existing-case-report/ Always call 999 in an emergency.
Message Sent By
Beverley Rowe (Police, PCSO, Cirencester)
NOTICE OF UNCONTESTED ELECTION – POULTON PARISH COUNCIL – 18th June 2021
Please see the attached Notice of Uncontested Election in relation to the three vacancies for Councillors on Poulton Parish Council.
ubject: Crime Prevention Advice 25/06/2021 10:20:27 [386760]
NOTICE OF ELECTION FOR THREE PARISH COUNCILLORS ON POULTON PARISH COUNCIL – 15th July 2021
Please see the attached Notice of Election in relation to the three vacancies for Councillors on Poulton Parish Council. Anyone wishing to stand as a candidate at the election must submit a nomination paper to the Returning Officer at Cotswold District Council no later than 4 pm on Friday, 18th June 2021.
PARISH COUNCIL NEWSLETTER – 9th June 2021
Please see the latest Newsletter from Poulton Parish Council.